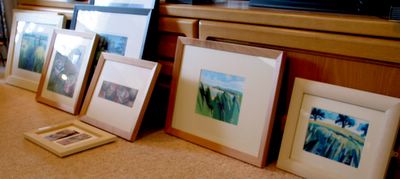 It's all starting to slowly come together for my exhibition. There's still so much to do though!
I have to go to the Northwich Chronicle office this week to be 'interviewed'. I am terrified! My sister persuaded me do it. I know these things have to be done but I'm sure I'm going to make a complete ejit of myself.
P has been amazing over the last couple of weeks but we had a really bad day on Saturday. We spent all morning driving all over Cheshire picking up piles of mountboard, glass and more frames. We were feeling pretty pleased with ourselves for getting up at the crack of dawn and finishing it all only to find that the glass was 1mm too big for the frame, we'd picked up a frame in the wrong size and the mountboard was prone to snagging. Agh!
Why do these things happen in threes?!